Back to overview
The recent certification of some large offshore hydrogen transportation pipelines represents an essential step in the energy transition. Bureau Veritas has now certified NGT and NOGAT's natural gas pipelines, officially making them suitable for transporting hydrogen produced offshore using wind electricity. This will enable a rapid transition to green hydrogen and show how the gas sector contributes to the energy transition.
Gas pipelines improve sustainability
Hydrogen can be produced in several ways, but the most sustainable is electrolysis. This requires electricity; when renewable wind energy is used for hydrogen production, we call the result "green hydrogen". Given the abundance of wind farms, it makes sense for production to take place in the North Sea, especially if the existing offshore gas pipeline network can be used to transport the hydrogen to shore. The certification of key gas pipeline infrastructure will help make this a reality.
Benefits of re-using infrastructure
There are many benefits of re-using the existing offshore infrastructure. For example, offshore wind power production is cheaper than onshore production because conversion steps are not required. Transporting hydrogen through pipelines, especially over long distances, is cheaper and more efficient than transporting electricity through cables. In addition, the pipelines are conveniently located close to wind farms and are connected to gas fields where hydrogen could potentially be stored. This is also better for ecology and the environment because no new landing facilities or interconnections need to be built.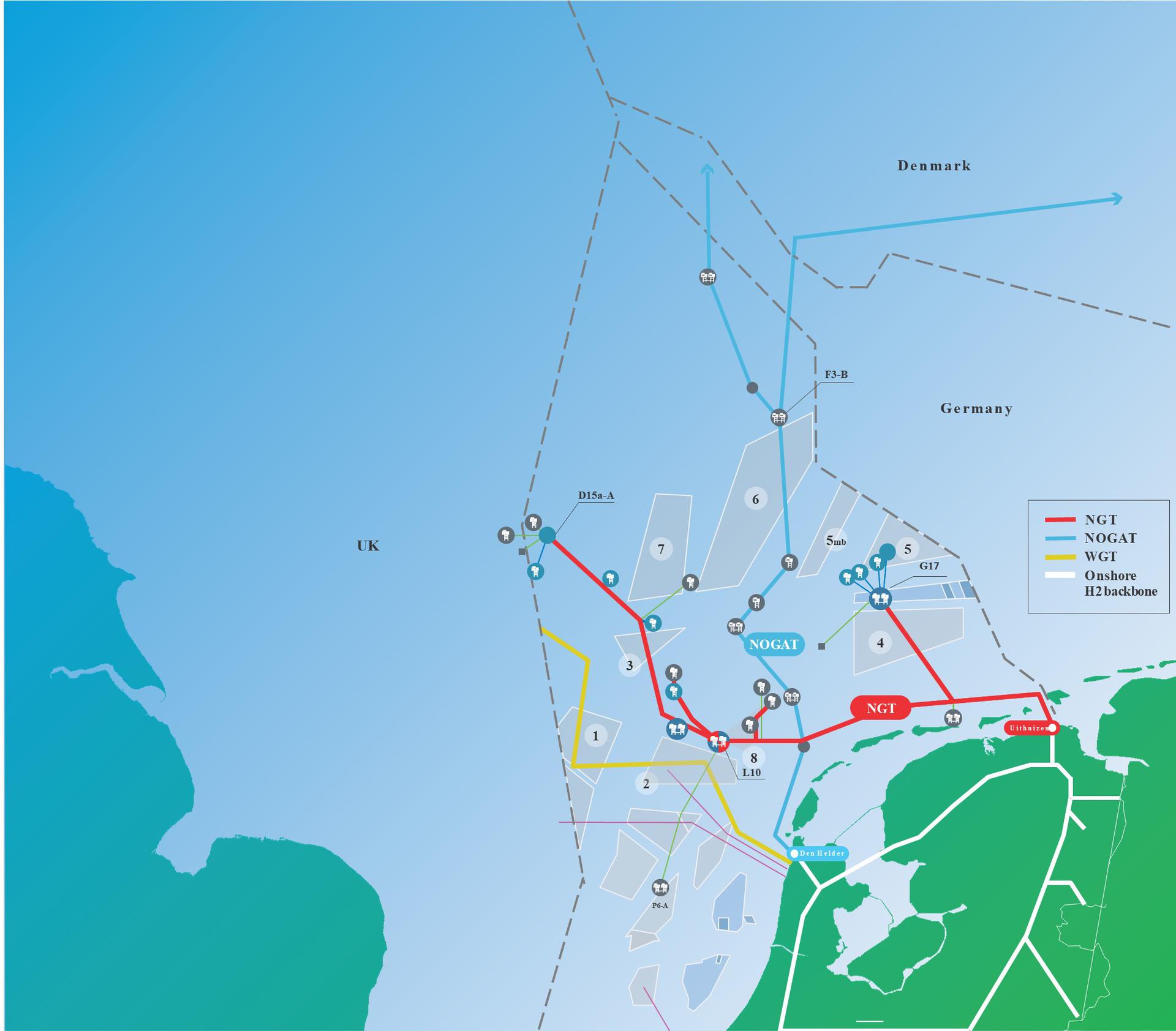 Ready by 2030
The pipelines can carry 100% pure hydrogen, but also a mix of natural gas and hydrogen. The NGT pipeline comes ashore at Eemshaven in Groningen and has a 10-14 GW capacity. The NOGAT pipeline comes ashore at Den Helder and its capacity is estimated at 10-12 GW. Certification means that gas transport can begin even before 2030.
Important for the gas industry
Element NL welcomes these developments, as the gas industry is working hard to make its contribution to the energy transition. The development of the hydrogen market is one of the key priorities of the Action Agenda. Our members are also involved in innovative projects such as PosHYdon (construction of an offshore hydrogen plant) and the North Sea Energy Programme.

Learn more about how natural gas pipelines are being re-used for offshore hydrogen transportation in this paper (in Dutch).