Back to overview
The upstream emissions of natural gas from the US (such as LNG) are six times higher than those of natural gas from the Netherlands. Dutch gas consumption of 40 billion cubic metres a year is well above the national gas production of 15 billion cubic metres. And what does CC(U)S actually stand for? Just some of the facts presented as openers at the In-House Day for Energy Talents that left the students eager to hear more.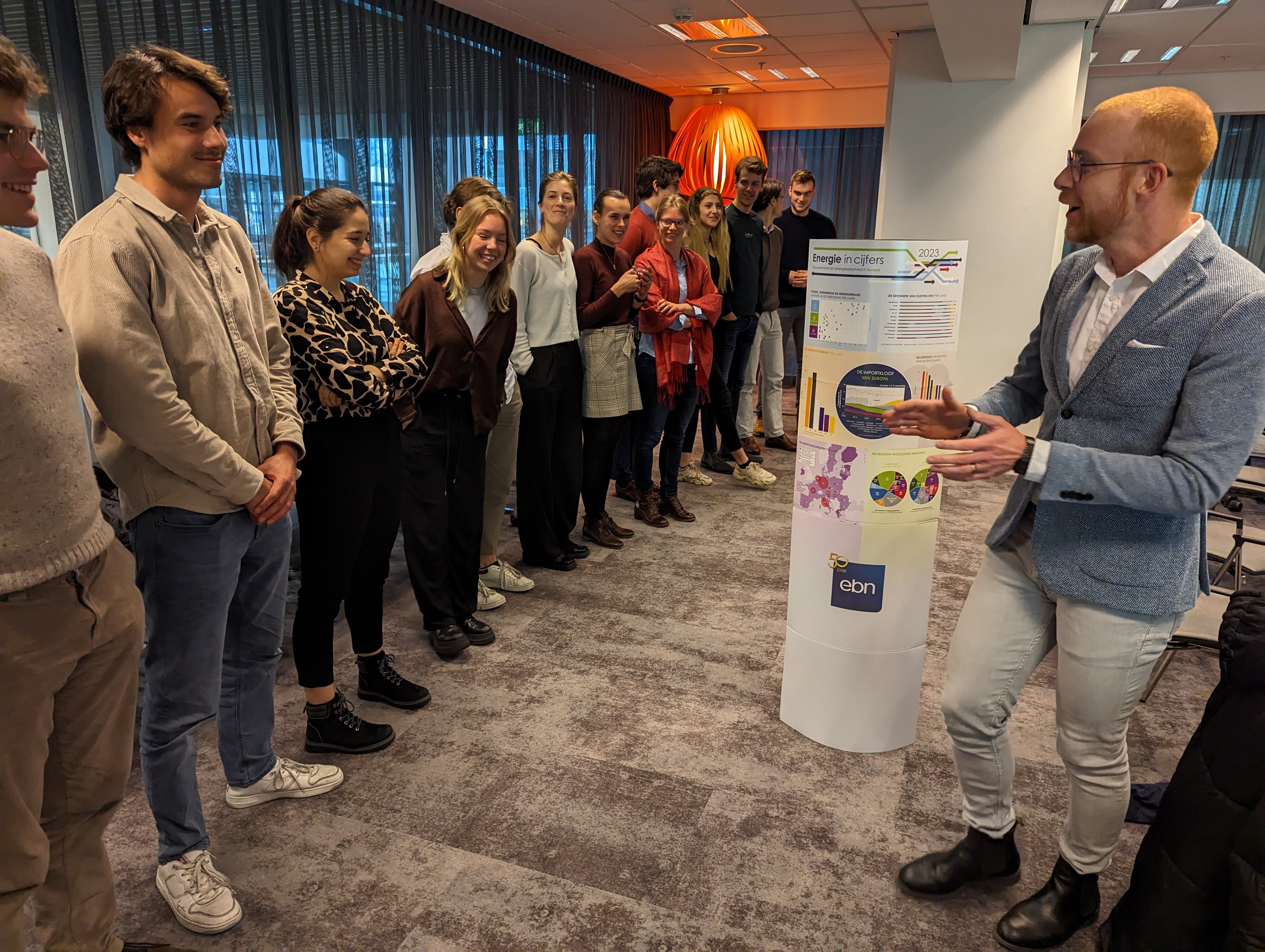 Energy Talents is a group of students from various (technical) universities in the Netherlands who want to play a role in the energy transition with their expertise. A total of 18 Energy Talents visited Element NL last week. The afternoon's theme was CCS, or Carbon Capture and Storage, and included speakers, an "Unpanel" session, and closing drinks. Both the speakers and the students reacted enthusiastically to the programme, which provided the Energy Talents with a different perspective on the role of the oil and gas sector in the energy transition.
Rene van der Meer, from operator Neptune Energy, kicked off the event by discussing Neptune's CCS activities in the North Sea. "We at Neptune are emphatically working on the future. We focus on emission reduction, green hydrogen, and CCS. For instance, we have been the first to explore buying power from offshore wind turbines. We are also exploring the possibilities of converting offshore wind energy directly into hydrogen within the PosHYdon project." Van der Meer considers CCS a solution to achieving net zero emissions by directly capturing CO2 and preventing it from entering the atmosphere. "That is why we are working on an integrated CCS system in the L10 field that we can offer to major CO2 emitters."
Text continues beneath the video
'CCS necessary in fight against climate change'
Ariane Giraneza, who works for the NGO Bellona Europa and focuses on the Netherlands-Belgium-North Rhine-Westphalia industrial region, agrees that CCS is necessary to meet climate goals. "The European Climate Foundation, which funds Bellona's work around industrial decarbonisation, has said that if we cannot decarbonise this industrial region, the European climate goals will not be met at all," Giraneza stated. Bellona supports developing CCS, and as noted in the latest IPCC report and the IBO Climate, sees it as a key to achieving the 2030 climate targets.
Giraneza added, "CCS is simply necessary in the fight against climate change. The aim should always be to produce as much renewable energy as possible, but if there are still certain CO2 emitters later on, you could use CCS to provide a solution. We are very realistic about that. We do not see losing a lot of jobs and technological knowledge abroad as sustainable. After all, Europe has the space, money, and opportunities to further develop these technologies and thus make them more sustainable."
Experts ask the questions during Unpanel
The Unpanel session turned the tables. Instead of asking questions to the experts, the experts asked questions to the Energy Talents divided into three groups. The panel presented three cases: how best to monitor leaks in CO2 storage, what are the best ways to realise negative emissions, and who should bear responsibility around CCS safety.
In a tight quarter of an hour, students had to come up with their best ideas. Proposals were enthusiastically discussed and subjected to multi-criteria analyses, after which each group gave a short presentation. There, several creative plans emerged; from leakage inspection via satellites to a comparison between reforestation, CCS, and direct air capture. A plan on public-private partnerships around CCS through a tender system caught the eye of Ariane Giraneza of Bellona: "I will take this into the discussions that are still to follow on CCS in Eastern Europe."
Element NL participants were very impressed by the knowledge, creativity, and enthusiasm of the Energy Talents. If asked, we will definitely contribute to this programme again in the future.