Back to overview
"The Netherlands is in pole position in the energy transition race. Thanks to our North Sea, ports, industry, and already existing infrastructure. With that, we have all the elements to make it a good race," Lex de Groot, managing director of Neptune Energy and vice-chairman of Element NL, said after Prime Minister Mark Rutte's working visit to Maasvlakte 2.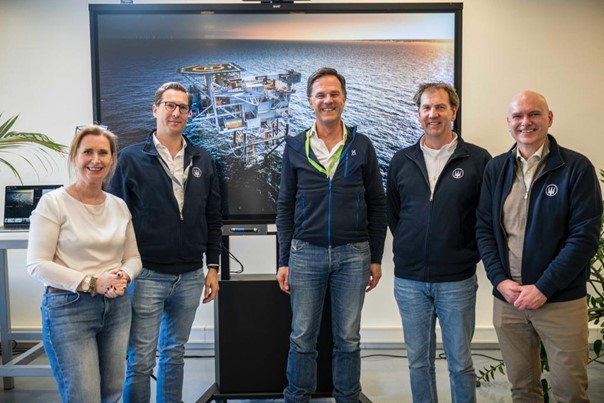 The prime minister visited the Maasvlakte 2 in the port of Rotterdam to see how Neptune Energy, among others, is contributing to the energy transition. Together, Neptune Energy, Gasunie, TenneT, Vattenfall, and the Dutch Renewable Energy Association (NVDE) gave a good demonstration of what is being done and the challenges we still face in the energy transition.
Rutte: 'Importance of stable and affordable energy supply'
"We are really leading the way now. This in turn leads to innovations that we can export," Rutte stated during his visit. "It is important in the long term to ensure an affordable and stable energy supply in the Netherlands."
The Netherlands is taking big steps in the energy transition. This is how we tackle climate change, ensure secure and affordable energy and strengthen our economy. On Rotterdam's Maasvlakte, I saw how energetically people are working on this transition. pic.twitter.com/cWtxACY9YC

— Mark Rutte (@MinPres) April 19, 2023
Innovation and security of supply are also spearheads for Element NL. That is why we also stand for using Dutch natural gas instead of importing gas for as long as we still need natural gas. That already saves 30 percent in CO2 emissions. In terms of innovation, these include Carbon Capture & Storage (CCS) and hydrogen, techniques that are essential to meet climate targets. These are also points from the Element NL Action Agenda, to which our other members have committed alongside Neptune Energy.
Molecules and the energy transition
"In the energy transition, the gas sector is further contributing mainly on the side of the molecule. Molecules that are badly needed for decarbonisation of industry, households, and transport," the managing director of Neptune Energy clarifies. "Cooperation between all parties, private, public, between sectors and with the countries around us, is essential in this." According to De Groot, above all, CCS offers huge opportunities in the future to prevent even more CO2 from being released into the air.
"Through cooperation and integration, building on the knowledge and experience of working in the North Sea and the infrastructure and fields we already have in the North Sea, that future will come closer faster, for lower costs and with the lowest possible impact on both environment and climate," De Groot concludes.